An Ostrobothnian Peasant Wedding
A peasant wedding in the Ostrobothnian countryside at the beginning of the 20th century usually lasted at least 3 days as the wedding was the greatest festival in a person's life. Far in advance preparations were made for the wedding. The living-room in the bride's home was decorated with fringed sheets, silk shawls, mirrors and sconces. Early in the morning on the wedding day the bride was dressed by the village bridal dresser. Her hair was plaited hard and the crown, which was about 30 centimetres high and decorated with tinsel was sewn to her hair. The music was woven into the wedding celebration from the beginning to the end. The fiddlers had to be on the go from the arrival of the first guests until the moment the last guests left the wedding house after several days of eating, drinking and dancing. Singing was heard outdoors and indoors. People sang good-luck songs, songs at mealtimes and songs toasting the bridal couple. The guests sang, the bride sang, the bridegroom sang, and time and again a single singer would strike up a song.
When Otto Andersson recorded folk music in Ostrobothnia between 1902 and 1905, he was fascinated by the richness and the beauty of the wedding music. It is said that an inn-keeper in the parish of Purmo san the first wedding song when he drove Otto Andersson to another parish. Later on Otto Andersson and Victor Novacek arranged the melodies to be performed by the choir and the string orchestra of the Brage Association. At the same time there was hope of being able to give a common frame to the music and the dances. The result was that army chaplain A. R. Hedberg wrote som dialogue and monologues in the Petalax dialect and subsequently the Peasant Wedding came to comprise 7 tableaux.
Oskar and Marie-Louise Lindman performing the roles of bride and groom at the
Peasant Wedding in Sundom in 2013.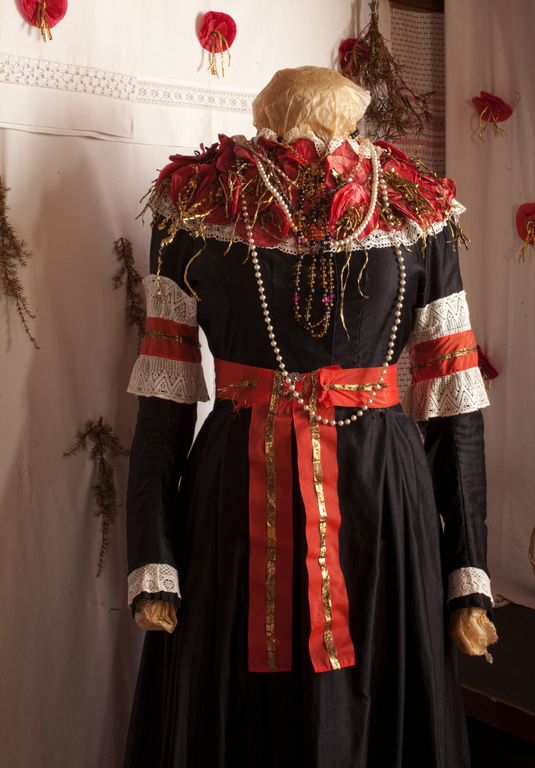 Traditionally, the bride was dressed in black. The outfit also included the elaborate
bridal crown.